Ha Noi Biking and Farming tour (6 hours tour, Everyday departure at 8.00 am)
Located in the centre of North Vietnam, Hanoi is the cultural capital of Vietnam. its heart and soul. The name of Ha Noi (city in the river) has been derived from an ancient language which is literally known as a land area located in the inner side of Red River. It does not mean that the […]
Itinerary
Located in the centre of North Vietnam, Hanoi is the cultural capital of Vietnam. its heart and soul. The name of Ha Noi (city in the river) has been derived from an ancient language which is literally known as a land area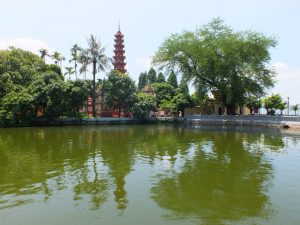 located in the inner side of Red River. It does not mean that the city is inside the river, but it is embraced by about 100 km of the Red River dykes. For thousands years of being the capital of Vietnam, Hanoi has endured numerous invasions, occupations, restorations and name changes. Since the first State of ancient Vietnam was established, Hanoi has been considered a sacred and typical part of Vietnam which is attractive  travellers all the world.
Hanoi oldquarter  or ""Hanoi 36 Old Streets" is the centre of Hoan Kiem District like as well as Hanoi city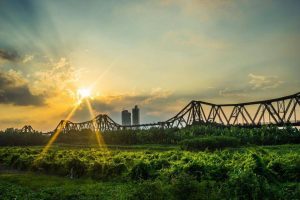 which is nearby Hoan Kiem Lake. Each street had merchants and households specializing in a particular trade, such as Hat Street(Hàng nón) , Silver Street ( Hàng Bạc) or Coopper Street (hang Đống)…inside old quarter has a lot of hotels, spas, bars . also insde old quarter has a lot of activities which are attractive travellres all over the world such as:
Dong Xuan night market in Friday, Saturday and Sunday, Hanoi walking Tour, Hanoi cooking class, Hanoi Street food tour and HANOI BIKING & FARMING TOUR is special activity like that:
Itinerary in HANOI BIKING & FARMING TOUR:
Option 1:
8.00 am: Tour guide will pick you up from your hotel in the Old Town We start biking to Westlake to visit Tran Quoc Pogoda and take photos then we go to Long Bien Bridge which is famous in Hanoi, built in French colony. Land on the "island" on Red river where you can join farming with local people. Our guide will explain you some types of farming tools, what they are made for and show you how to use them. It will be a new special experience for you.
10.00 am: Have a short break.
Around 3 hours the guide will teach you how to prepare soil, what types of vegetables are well grown on this soil kind.
11.30 am: Have a picnic lunch with local people (if nice weather) or going to a local restaurant nearby for lunch and break.
13.00: You can join fishing on the Red river around 1 hour or even longer if you want.
15.00: The guide takes you back to your hotel. Tour ends.
Inclusion in HANOI BIKING & FARMING TOUR:
– English speaking guide.
– Entrance fees.
– Lunch.
– Transfer.
– Fishing rod.
– Agricultural tools
Exclusion in HANOI BIKING & FARMING TOUR :
– Insurance.
– Drinks.
– Personal expenses, tips.
CHILDREN POLICY:
–        Chidren under 4 years old is free.
–        5 – 7 years pay 50%.
–        Over 7 years pay 100%.
Option 2: You can go biking with the guide to an ancient village at Văn Lâm , Hưng Yên on the way we can visit bat trang pottery and join farming in the village.
Comments